Aerospace
From Bespoke Interior to
Traceability Solutions
Aerospace Backlit Buttons - Bespoke Cabin Ambience
Working closely with moulders and first tier suppliers, Fimark provides painting and laser etching for the manufacture of backlit buttons and fascias for dashboards. These optical devices require very close control of paint thickness and finish, and positional accuracy of the laser etched graphic.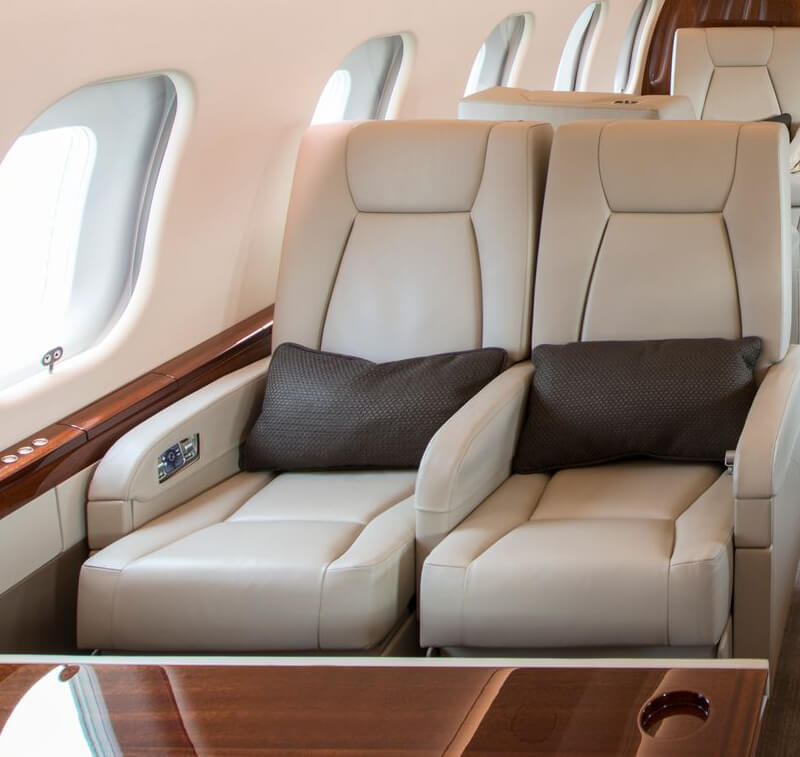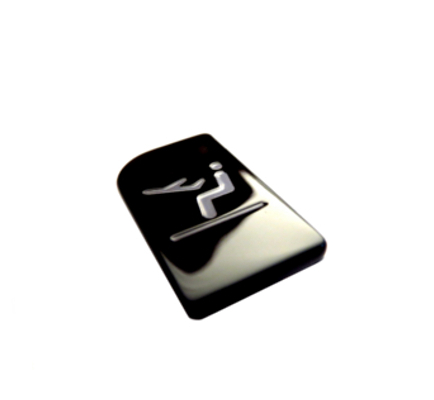 Cabin ambience is an important area by which airlines and aerospace interiors manufacturers can differentiate their products, enhance their designs and spread their brand image in order to maximise customer engagement.
Much research has been done into creating a satisfying environment for passengers. The effective night time illumination and day time aesthetics of a cabin's interior are becoming more important. Switches and panels can be painted and lit in a variety of colours and use is being made of halo lighting and concealed graphics that only appear when illuminated.
Aerospace Traceability Solutions
From DataMatrix, UID and Bar Codes, Tamper Evident Labels and Nameplates
The need for full traceability and identification services by the Aerospace industry can be met by laser marking machine readable codes and text. Aerospace devices and components are marked by different techniques based on the variety of materials and the nature of the expected code.
Our traceability solutions range from the following and comply with Federal Aviation Authority (FAA), Military Aviation Authority (MAA) and the Civil Aviation Authority.
Machine-readable codes are essential where security and accurate reading of information are of high importance. Whilst the barcode is ideal for small quantities of information to be machine read off high contrast surfaces, for more demanding applications a 2-d code like a Data Matrix code is required. These codes can store up to 2000 characters and their size can be from 25 microns to over 300 mm square. Curved and uneven surfaces, highly reflective surfaces and materials that give a low contrast can be marked by laser with a Data Matrix code. These codes also have a level of redundancy that allows a successful read even when partly damaged.
More sophisticated readers than standard barcode readers are required and the lighting of the mark is critical with most readers having their own lighting. In military and medical applications, particularly on stainless steel and curved surfaces, the Data Matrix code has become the standard.
FIMARK has manufactured barcode labels and nameplates for all sectors of industry. For the defence industry we provide UID solutions which can involve direct marking of codes onto components and verification certificates. UID or Unique Identifier codes (a special form of Data Matrix code) and their validation certificates are becoming compulsory for any supplier to the US military.
The flexibility of laser marking allows serial numbers and variable information to be added to almost any surface in the form of a machine-readable code. Software converts data that can be inputted from a text file into the graphical format of a bar-code, Data Matrix or QR code. The laser parameters are selected to maximise readability and are optimised for each material. For example, on steel the surface might be turned black whereas on aluminium the surface would be etched.
Tamper Evident Labels and Nameplates
Providing a high chemical resistance and able to operate within a broad temperature range our tamper evident laser labels are used where labelling applications are critical. The Tesa and 3M materials we use offer resistance to humidity and solvents and other environmental influences. The labels can be cut to any shape and marked at the same time with serial numbers, logos, graphics and machine readable codes like barcodes and Data Matrix codes and other variable information.
This type of material is used by car manufacturers for VIN plates and for displaying tyre pressure information. The labelling material comes in white, silver and matt and gloss black.
Most of FIMARK'S customers in this area are suppliers of asset security labels.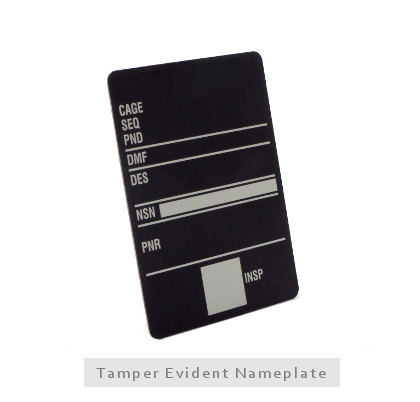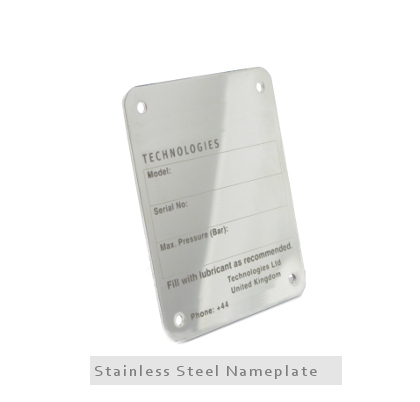 Over the years we have supplied nameplates and rating plates to every conceivable industry. About half of the nameplates are free-issued by our customers for us to process, but we also provide a complete service where we supply the nameplate and mark it to the customer's specification.
Commonly used materials include stainless steel, (brushed, dull polished or shot blasted) and colour anodised aluminium and foil. Nameplates can be supplied with adhesive backing.
Please contact us with your requirements.
Aerospace
From Bespoke Interior to Traceability Solutions
No matter how complex your current project is concerning Aeropsace Bespoke Interior, Traceability Solotions (Unique Identification Codes, Datamatrix, Bar Codes) Fimark's expertise can help you achieve the result you need. 

Competence in Lasers Since 1997