Automotive
Backlit Buttons,
Fascias, Interior Tailoring
Automotive Backlit Buttons and Fascias
Working closely with moulders and first tier suppliers, FIMARK provides painting and laser etching for the manufacture of backlit buttons and fascias for dashboards.
These optical devices require very close control of paint thickness and finish, and positional accuracy of the laser etched graphic.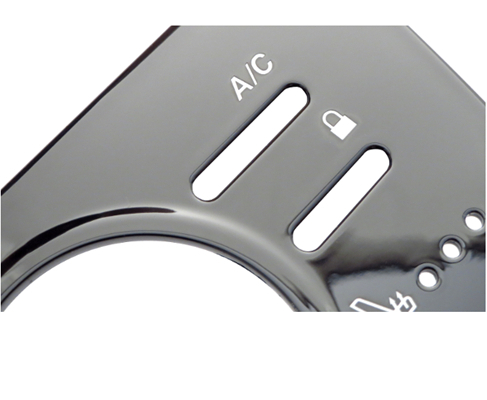 Cockpit ambience is an important area by which car manufacturers can differentiate their products, enhance their designs and spread their brand image in order to maximise customer engagement.
Much research has been done into creating a satisfying environment for a car's occupants. The effective night time illumination and daytime aesthetics of a car's interior are becoming more important. Switches and panels can be painted and lit in a variety of colours and use is being made of halo lighting and concealed graphics that only appear when illuminated.
Automotive
Interior Tailoring
Direct Laser Surface Texturing
Direct Laser Surface Texturing - Adding Value to a finished component
Direct Laser Surface Texturing is a process used for product differentiation and decoration or for adding value to already finished components.
As you can see in the right-hand picture, our client wanted to add value to an otherwise finished stainless steel component for a special limited edition. The next pictures are examples showing how flexible the process of laser engraving a design onto the component's surface is.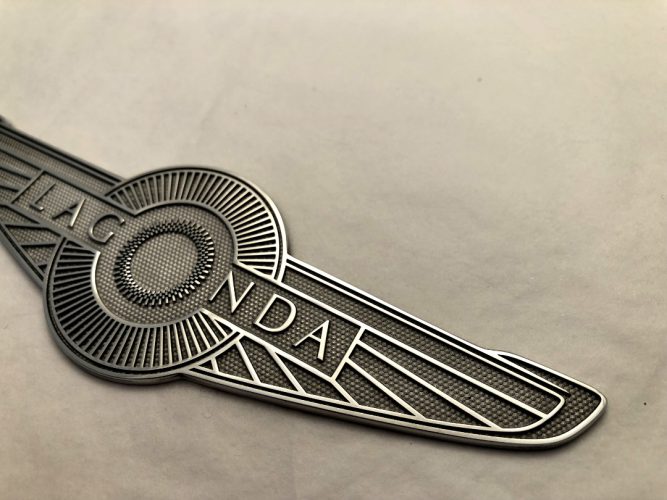 To be able to do this we need the CAD of the component in order to digitally apply the texture/design onto the part.
Our equipment software automatically and intuitively calculates how to achieve the desired result and includes transition-free patching, UV mapping for applying random over-lapping textures and full 3D simulation of the machine programme.
Automotive Backlit Buttons, Fascias, Interior Tailoring
No matter how complex your current project is concerning Automotive Backlit Buttons, Fascias and any Interior Tailoring, Fimark's expertise can help you achieve the expected end result. 

Competence in Lasers Since 1997